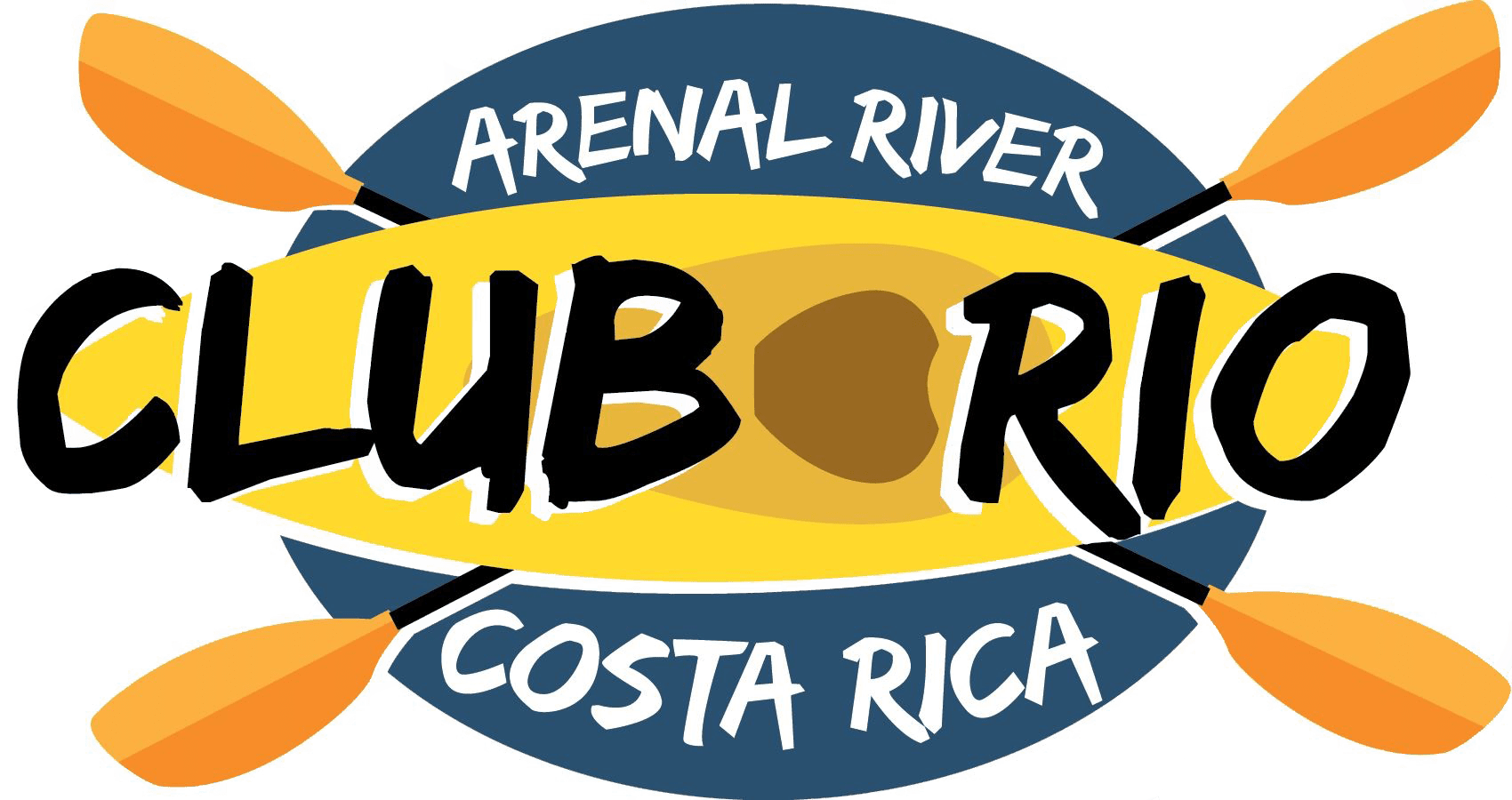 WELCOME TO CLUB RIO ADVENTURE CENTER
EIGHT INCREDIBLE ADVENTURE TOURS IN ONE PLACE
Only at The Springs Resort & Spa
Club Rio Outdoor Center is located directly below the resort along our beautifully forested, mile long stretch of Arenal River frontage. With its eight different soft adventure activities, Club Rio is perfect for all ages and is a "Must See" area of the resort. The fact that all of these activities are offered in one location and on-site is a fantastic amenity for our guests. Some of these tours and activities include River Tubing, Inflatable River Kayaking, Horseback Riding, Rock Climbing and Rappelling, Nature Tours, Hot Springs, and River Fishing. Before and after the scheduled tours, we encourage our guests to walk the hiking trails leading to secluded, natural hot springs just feet away from the river's edge.
Club Rio also features Arenal's finest animal sanctuary. In conjunction with the MINAE (Ministry of Environment and Energy) we operate a preserve for Costa Rican wildlife that have been confiscated from poachers or donated by other private reserves, rescue centers or individuals. Our Wildlife Sanctuary Tour gives our guests the opportunity to experience a large array of Costa Rican wildlife living in beautiful, natural habitats all in one easily accessible location.
EIGHT ADVENTURES, RIGHT ON-SITE, AND A "MUST SEE" AMENITY OF THE RESORT!
Located below the main resort on our private stretch of the Arenal River, Club Rio Outdoor Center offers River Tubing, River Kayaking, Horseback Riding, Climbing and Rappelling Wall, Animal Sanctuary, Guided Nature Hikes, Fishing and Hot Springs. We highly recommend that you take our shuttle bus and come see the beauty of this place. You don't have to book a tour to enjoy Club Rio because there is a lot to see and experience by just walking around and lounging in the Hot Springs, and then you can see the various tours in action. Please bring your bathing suit and horseback riding clothes when you come down because we are sure that you will want to book some of the tours while you are there. No visit to The Springs Resort & Spa is complete without the Club Rio Experience!

Club Rio's Multi-Adventure Package
This package includes Hot Springs, an authentic Costa Rican lunch at our Rancho Club Rio Restaurant and your choice of two of the following activities: River Tubing, Horseback Riding, Animal Sanctuary Tour or time on the Rock Climbing and Rappelling Wall.
Rancho Club Rio Restaurant & Bar
For one of the most authentic dining experiences in Costa Rica there's no better choice than Rancho Club Rio restaurant at The Springs Resort and Spa. With native dishes such as Fresh Ceviche, Guava Churrasco, and Arroz con Mariscos, options at Rancho Club Rio are bound to submerge your taste buds in a very traditional Tico dining experience. You are guaranteed to enjoy your meal at this aesthetically beautiful restaurant overlooking the Arenal River on one side and lined with the sounds of hummingbirds on the other.
Restaurant Hours: 11:00 AM to 4:00 PM
Bar Hours: 10:00 AM to 4:00 PM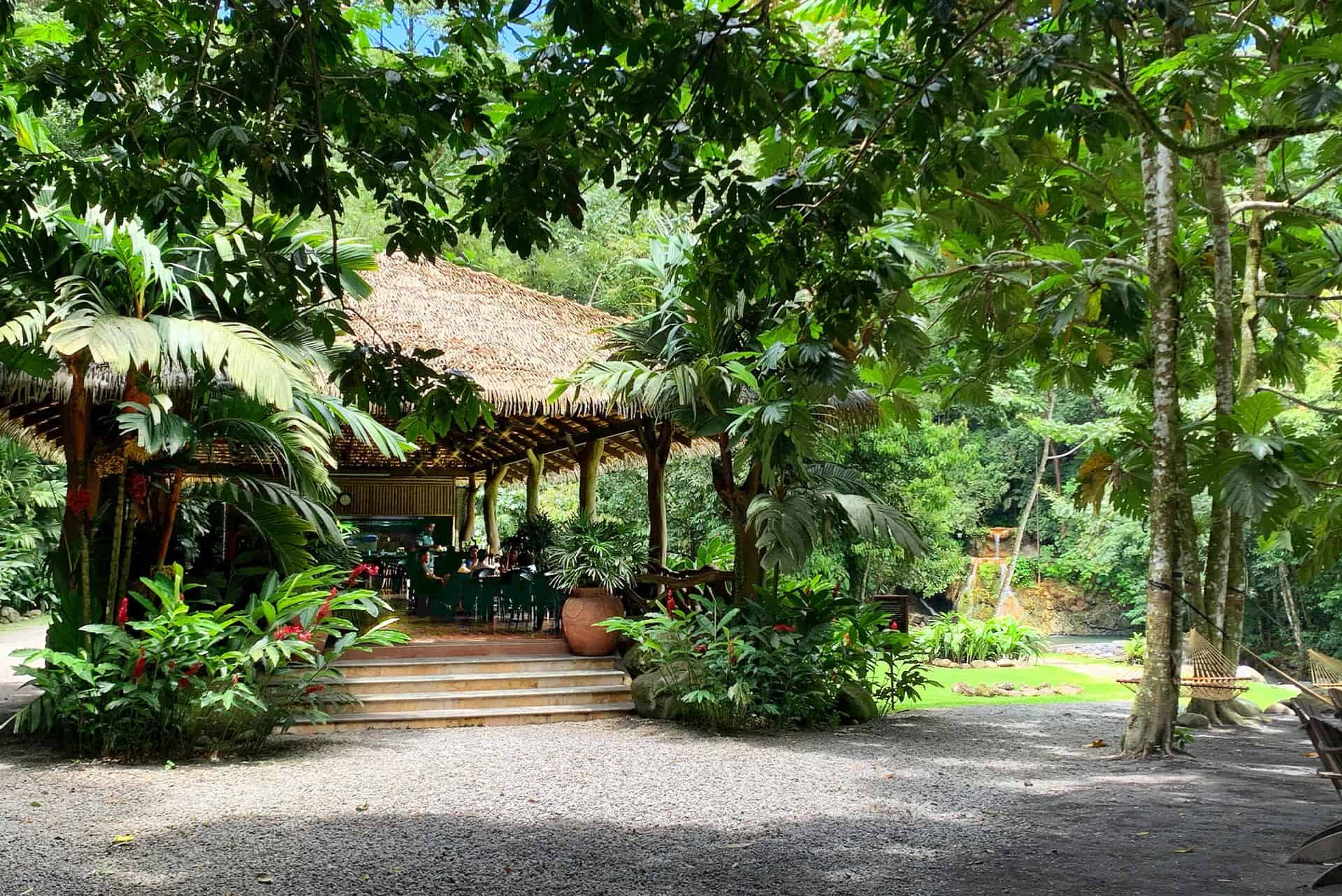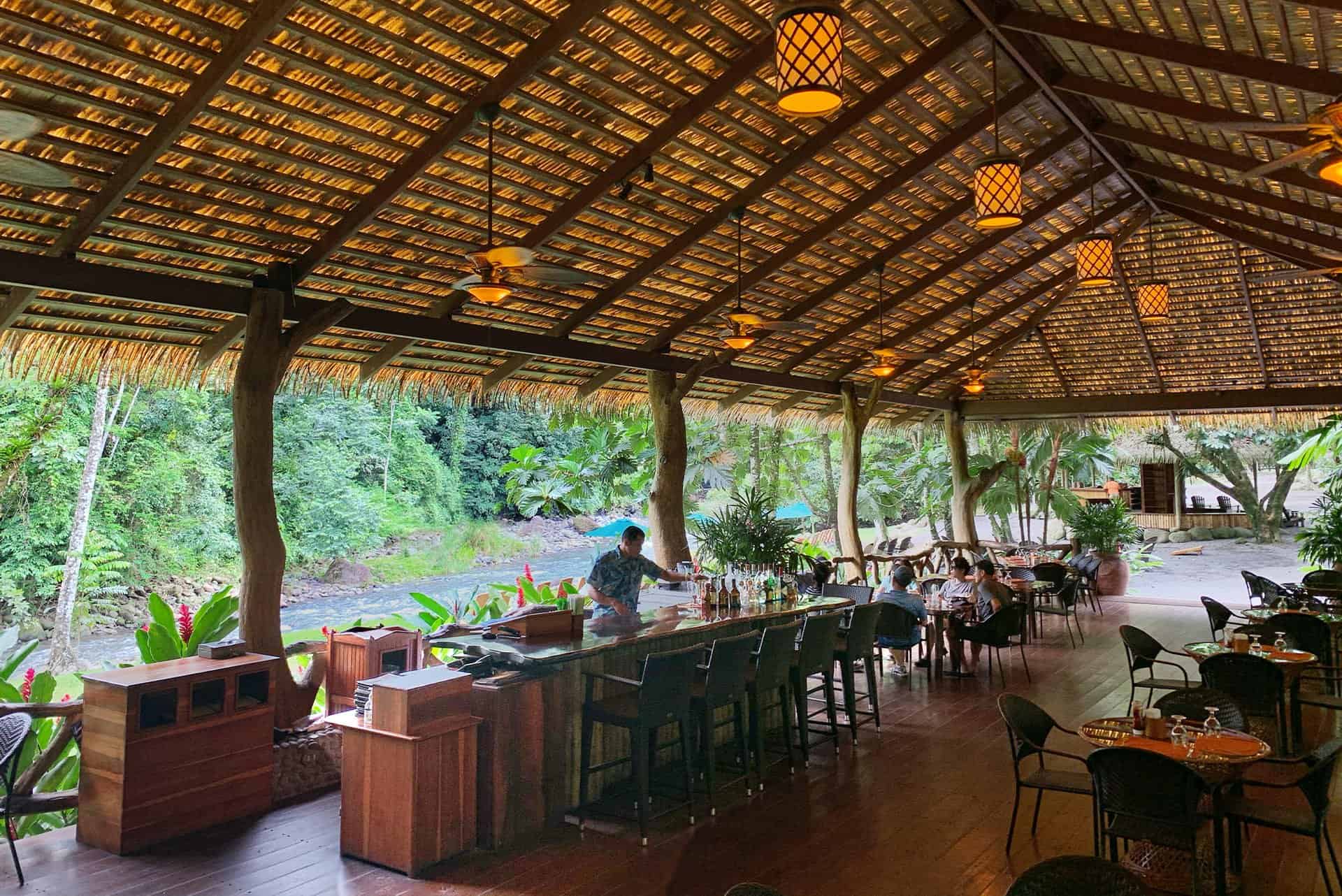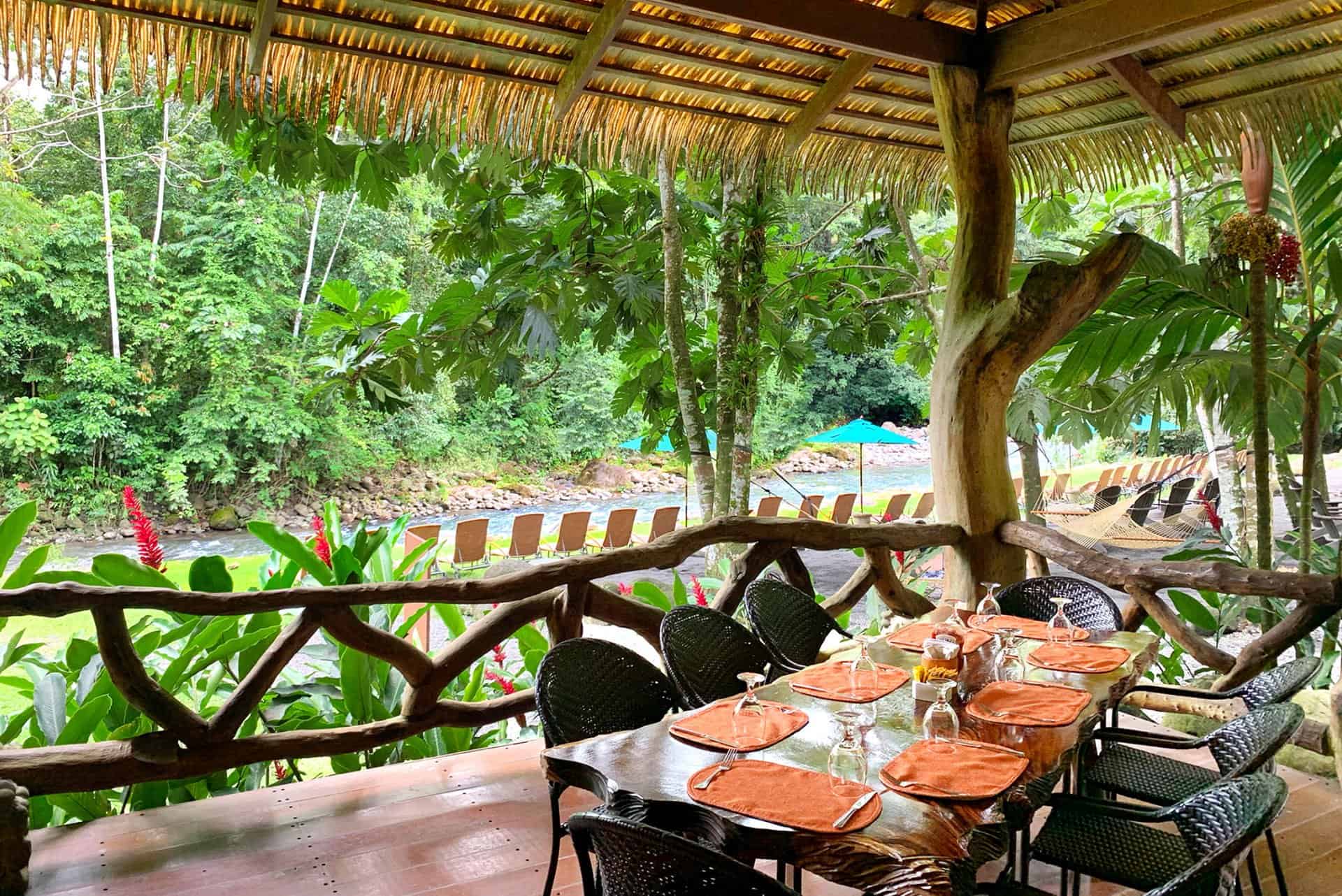 Shuttle to river departs from reception lobby
8:45 am, 9:15 am, 9:45 am, 10:15 am, 10:45 am, 11:15 am, 11:45 am, 12:15 pm, 12:45 pm, 1:15 pm, 1:45 pm, 2:15 pm, 2:45 pm, 3:15 pm, 3:45 pm
Shuttle from river back to reception portico departs from Club Rio
9:05 am, 9:35 am, 10:05 am, 10:35 am, 11:05 am, 11:35 am, 12:05pm, 12:35 pm, 1:05 pm, 1:35 pm, 2:05 pm, 3:05 pm, 3:35 pm, 4:05 pm,4:35 pm, 5:05pm
Wildlife Sanctuary Tours depart from Club Rio
10 am, 11 am, 12pm, 1 pm, 2 pm, 3 pm, 4 pm
You must watch your children at all times because the river and its banks can be dangerous areas. Please do not allow children to do anything that appears dangerous.  We do not have lifeguards or babysitters and we cannot be responsible for the supervision or disciplining of your children.  Children 16 and under must be accompanied and monitored by an adult at all times on the grounds of Club Rio.  Please do not allow children that cannot swim well in the hot springs or river pools.
CAUTION:  NO LIFEGAURD ON DUTY
YOU MUST ASSUME YOUR OWN RISK AT CLUB RIO
Rivers, forest trails and natural rock formations are dangerous and you must be very careful when visiting this area.  There are many slippery surfaces and areas without railings so adults please accompany children under age 16.  River currents can be swift and dangerous so please do not allow any person to swim in the river pool that is not a strong swimmer.  PLEASE USE COMMON SENSE NEAR THE RIVER!!!
We also must insist that no one arrive for any of our tours under the influence of Alcoholic Beverages!!
WHAT TO BRING FOR YOUR TOUR OR HOT SPRINGS DAY PASS
PLEASE REMEMBER TO BRING VERY COMFORTABLE CLOTHES (SPORT CLOTHES, SYNTHETIC) TENNIS SHOES OR HIKING SHOES; WATER SHOES FOR TOURS IN THE RIVER LIKE TUBING OR KAYAKING, RAIN JACKETS, REPELLENT AND SUNBLOCK; AND A CHANGE OF CLOTHES IN CASE IT RAINS. WE OFFER WATER SHOES FOR RENT.
FOR TUBING PLEASE WEAR A LONG SLEEVE WATER SHIRT TO AVOID CHAFING YOUR ARMS.
BRING LONG PANTS AND SNEAKERS FOR HORSEBACK RIDING TOURS, YOUR SHOES MIGHT GET WET BECAUSE WE MAY BE CROSSING THE ARENAL RIVER ON HORSEBACK.
OUR HOT SPRINGS WATER IS RICH WITH MINERALS AND IT MIGHT STAIN YOUR BATHING SUIT OR THE ROCKS MIGHT SNAG IT, SO WE RECOMMEND WEARING A DARK COLOR NON-EXPENSIVE BATHING SUIT TO ENJOY OUR HOT SPRINGS.
WE HAVE LOCKERS, CHANGING ROOMS AND TOWELS AVAILABLE FOR YOU, THEY ARE FREE OF CHARGE.